Not far from Missoula, Montana is a hidden jewel of natural wonders. In Moiese, Montana you will find the CSKT Bison Range. Formerly known as the National Bison Range, federal ownership was restored to the Confederated Salish and Kootenai Tribes in 2020.
Upon arriving at the range, you will see the parking lot and the visitor center at the top of the hill. This is a fee area, and you must stop and buy a pass. They offer a day pass or even a yearly pass.  As of today, the day pass is $10.00, a yearly pass is $20.00.  
The fee is for the ability to take any or all of the 3 auto tours, use of the picnic area, and trail use. 
This is like being on a safari, you will see lots of wildlife and beautiful scenery. You have three choices for loops to start your drive on, The West Loop, Red Sleep Road, and Prairie Drive.
 
The West Loop is a short loop where you can sometimes see Pronghorn, Deer, Elk and a variety of birds and other critters. Also there is a great view of the Jocko River.

Red Sleep Road is only open part of the year and you need to allow at least 2 hours to traverse it. It is definitely worth it. It's partially a one way loop until you reach Antelope Flats, then the road joins with Prairie Drive and becomes two way.
This road snakes up the mountain and into various riparian landscapes making you feel transported to another place. You can see bears, bison, elk, deer, lots of birdwatching and other small creatures.
There are two paths you can walk on, the 1/4 mile Bitterroot trail with exquisite Mountain views, and the 1 mile trail. Both are worth the stop, just make sure you are packing bear spray as this is Bear country,  and Black Bears call the range home. Practice safety when out of your car at the designated locations.
Prairie Drive is the last option and is open year round. Allow an hour to tour it all. Bison herds come down to the road and you can safely view them from your car. It's a wonderful experience for the whole family. Also, the views of the Mission Mountains are breathtaking. You can see elk, deer, birds of prey, pheasants, grouses, partridges, ducks, geese, antelope and of course bison if you are lucky.
There is a fantastic picnic area with many tables and restrooms for your convenience.  At this area, there are also trails, including one that is handicapped accessible, that lead to fishing access areas and strolls to see more wildlife.  Western Painted Turtles like to hang out on logs in the ponds on this trail. The sound of Yellow headed black birds, red winged black birds echoes as they sing their mechanical songs from the cattails.  Remember to keep your dogs on a leash and clean up after them.  And pack out everything you pack in.
This is a great way to spend a day spotting wildlife, wildflowers, having a picnic, a short walk, and a moment or two of zen under the beautiful Mission Mountains.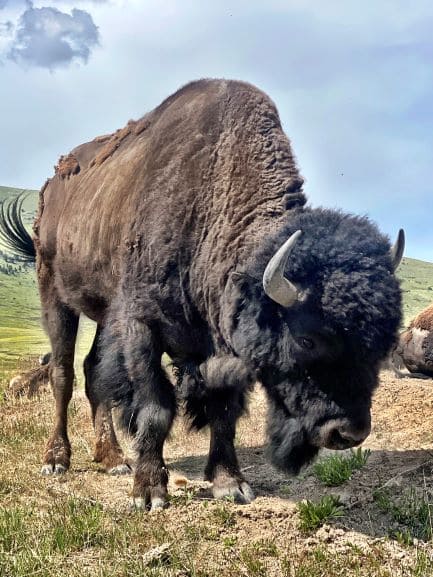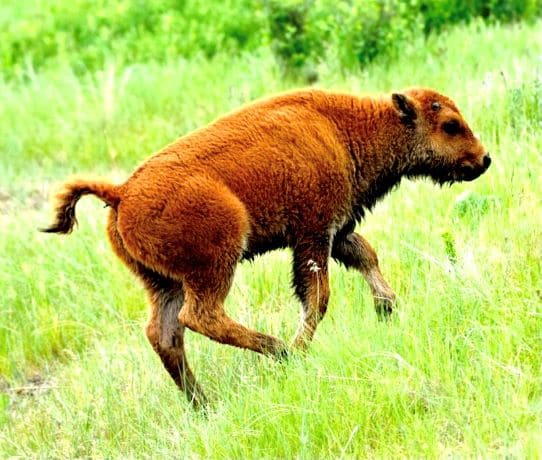 There are many other animals to see on the range besides bison.  An array of raptors, bears, elk, pronghorn, turtles, snakes, ducks and pheasants, and many other species of birds can be seen if you watch carefully.
Check out more information by visiting the Bison Range website at:
Bison Range Information & Hours of Operation – Bison Range Restoration
Always remember to respect all wildlife and stay in your car unless you are on a trail, and in that case, bring bear spray. All pictures are property of MIsty Mountain Soy Candles and were taken with a zoom lens.
Bison are the largest mammal in North America!  Males can weigh up to 2000 lbs.
Baby bison are referred to as "red dogs" due to their orange-red fur color at birth. It changes to brown after a few months.
Lewis and Clark were the first ones to scientifically document Pronghorn Antelopes.
Pronghorns can run up to 55 mph, making it the fastest land mammal in the Western Hemisphere. 
The Western Meadowlark is the state bird of our beautiful state of Montana.