One of the two tunnels on Going-to-the-Sun Road with Clements Mountain in the distance.
Glacier National Park-Going to the Sun Road
In Montana, you will find one of the most beautiful and scenic drives in America.  Located in Glacier National Park-Going to the Sun Road (GTTSR) is approximately 50 miles of paved road carved West to East into the breathtaking Rocky Mountains.  It was constructed in 1921 and is a National Historic Landmark.  The two lane road is very narrow and climbs to the highest point on the road, Logan Pass which is located along the Continental Divide at 6646 ft elevation.  It is a popular destination and is not open all year long due to the amount of snowfall making the road impassable.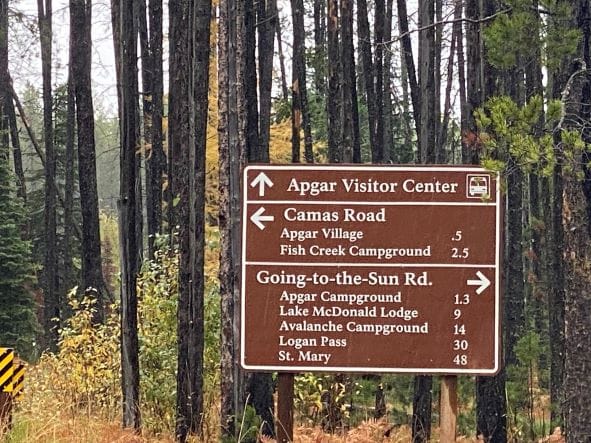 GTTSR has many hairpin curves making for an interesting drive.  There are car regulations as far as measurements for the alpine part of the road.  Cars must not be longer than 21ft in length, 10 ft in height, and 8 ft in width.  Be careful maneuvering around curves and be mindful of drop offs, wild animals as well as pedestrians and certain times of the year bicyclists.  Some areas on the East side are missing guard rails due to damage from avalanches in the winter, so in these areas, the speed limit is 25mph. 
St. Mary's lake area and Wild Goose Island as pictured is one of the most photographed areas of Glacier National Park and it was shown in the beginning of the movie The Shining. 
Second pic shows McDonald Creek at the base of the West side of GTTSR.
Near the area of Rising Sun, you will see this vista of East Flattop Mountain across from St. Mary's lake. 
If the sun is hitting the water at just the right angle, it will appear to have a turquoise coloring.  The water in Glacier National Park is very clear and McDonald Creek is easily accessible with several pull outs along the GTTSR.  
A different angle of St. Mary's lake with gorgeous blue skies on the East side of GNP.
Sunrise at Logan Pass on GTTSR at the highest elevation along the road, where you will find 2 great trailheads, Hidden Lake Trail and Highline Trail, both with impressive views of the Rockies.  
GTTSR is a great drive to see wildlife as well.  Mountain goats, deer, marmots, pikas, grouse, lynx, black bears, grizzly bears, big horn sheep and many others call Glacier home.  
This grizzly appears to be smiling while foraging along the Going-to-the-sun-road.  
This grouse greeted everyone upon arriving at Logan Pass, the highest point on GTTSR.  
McDonald Creek and McDonald Falls are excellent areas to stop and relax and take in the gorgeous views out of the car.  Just be mindful that the water moves fast on occasion and can be dangerous, as well as this is grizzly country so pack bear spray and know how to use it.  
Below: The other of the two tunnels you will drive through on GTTSR.  It really is a magnificent drive and if you don't feel up to it, there are other options.  One is the Glacier Park Shuttle bus, another is the Red Jammer bus tour or you could find a private tour company as well.  All in all, it is a great destination with beautiful vistas, weeping walls, active glaciers, tons of wildlife, engineering feats and gorgeous blue lakes, creeks and sky!   Add this to your list of must sees!
*GTTSR is the only road in GNP that traverses the park.  You can see an active glacier, Jackson Glacier,  from the road.
*The Sun Road is not open all year long and opening dates vary year to year due to colossal snow fall at the high alpine elevations. 
*St Mary's lake is 3293 acres of surface area!
*While there are 3 visitor centers along GTTSR, there are no gas stations, so be prepared and fill your tank before entering!
*It takes about 2 hours (without stopping) to travel the 50 miles on GTTSR.  
Map of Going-to-the-sun-road in Glacier National Park in Montana. 
Check out our Alpine candle for a fresh scent reminiscent of GNP.
All pictures are property of Misty Mountain Soy Candles using a zoom lens as we respect the wildlife and give them proper space.