Hey friends! Come along with us as we spend a week in one of the largest wilderness areas in the lower 48 states-a true national treasure-Olympic National Park in the Pacific Northwest state of Washington. Encompassing moody Atlantic ocean waves, sweeping mountain views of the Olympic Mountains to mossy covered trees in lush temperate rainforests and jumping salmon swimming upstream for their final curtain.  
Olympic National Park is a great place to visit anytime of year, especially if you love hiking, photography, diverse eco systems, and don't mind the rain.  So pack your raincoat and come along with us as we recap our week in early October viewing some of the  gorgeous landscape of Washington state.
DAY 1-Southeastern Corner: Staircase Rapids Trail
Driving about 14 miles through National forest and a very bumpy and rocky road, we made our way to our first stop, Staircase Rapids Nature Trail Loop.  A  2.1 mile loop that eases its visitors into a lush sanctuary filled with Douglas firs and an old-growth forest with a bridge overlooking the North Fork Skokomish River.  It's a great trail for any age and a great place for photos. 
The area has a picnic area, a ranger station, restrooms and a campground as well as several other trails that are more arduous for the more adventurous hiker.  We kept it easy and enjoyed the loop, although in places, note that there is a small elevation gain.  
The beautiful Skokomish is surrounded by forest and provides several areas that are  excellent backdrops for family photos or just quiet reflections. 
We took our time on the trail enjoying nature, and many of the forest's inhabitants including large banana slugs, flickers and other small birds.  
It rained on us the last half of the loop and luckily we had packed emergency ponchos because the weather is very unpredictable even hour by hour.
Home Base: Shelton, Washington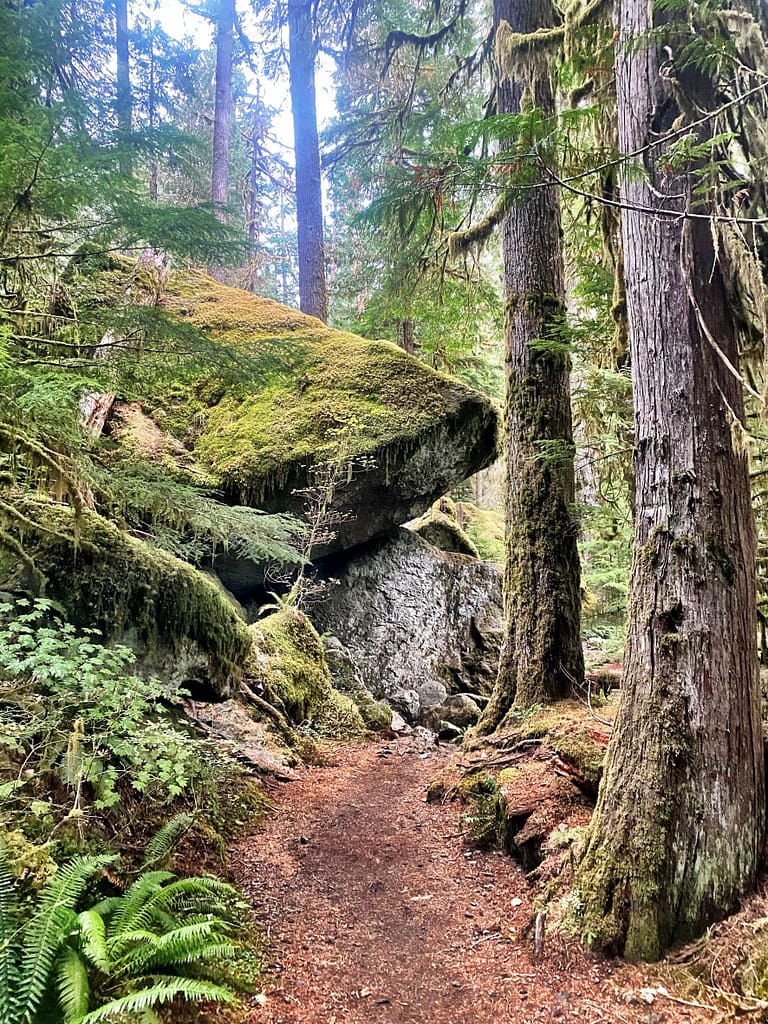 Day 2-West Central at the Hoh Rainforest
A little over a 3 hour drive from Staircase is stop 2 on our trek-The Hoh Rainforest (approximately 160 miles). Partially driving about 10 of those miles to the initial park entrance to the Hoh Rainforest on a road lined with thick moss covered trees.
The Hoh is one of the most popular places in the Olympic park. It gets its name from the Hoh River that runs from Mt. Olympus to the Pacific Ocean. "Hoh River" translates as "Snow River". The river is formed from glacial runoff. Get there early if you want a parking space as it is very limited.
Once you arrive, there is a visitor's center with helpful park rangers and information about the Roosevelt Elk and other wildlife that inhabit the Hoh. Undoubtedly, the shop will be sold out of ponchos, so be sure to bring your own as this can be a soggy hike. After all, you are trekking through a temperate rainforest.
We walked the Hall of Mosses loop trail which is a very short trail (less than a mile), but give yourself time to have a look all around. Everything appears to have life. A stump can have moss, lichen and fungi that are so small that you'll be wanting to capture it on camera.
There are 2 other trails there as well as a campground and picnic area, and restrooms near the visitor center.
Home base: Forks, Washington
DAYS 3 & 4-West Coast at Rialto Beach
About 30 minutes away is the town of Forks, Washington made popular for being the town used in the main setting for the Twilight series.  It's a small area with several places to stay close to the Hoh and the West Coast Beaches.  There are many beaches to visit on the Southern coast including Kalaloch and Ruby, and on the Northern Coast-Rialto and Mora.  Dogs are allowed on parts of these beaches, be sure to stop by the Kalaloch Ranger station for more information and sign your dog up to be an official "BARK Ranger".  They may even give your pup a badge!
The Mora area is filled with trees that look upon the Pacific Ocean.  Rialto beach is a gorgeous spot to explore with your entire family.  The beaches are filled with large driftwood logs and some have been used to make beach huts to shelter within when it gets too chilly.  
The ocean is moody and the waves really showcase how treacherous the sea can be.  From the shore, you can look out to the sea stacks to see bald eagles and gulls looking for snacks.  
The seafoam is thick, the beach is rocky and you will need to prepare by having a tide chart handy if you want to continue the trek safely to Ellen Creek to see the tidal pools. 
We opted out as the tide was high during our visit, and instead, went for a small hike around the James Pond trail.  Again, a loop trail into a lush forest with tons of ferns, mossy greenery and plenty of fungi for the mycophile.    
Home base: Forks, Washington
Day 5- Northwestern at Sol Duc Falls
Heading Northwest around the park, we visited Sol Duc Valley.  This place is known for it's old-growth forests, snowy peaks and Coho salmon.  
Each year around October, the Coho salmon return to their place of birth to spawn.  They fight the rapids swimming upstream, leaping out of the water and make their way to their final destination.  
Salmon cascades overlook provides a place to watch this amazing feat.  It is a popular spot to visit and have your shutter fingers ready to capture the salmon.  Sometimes bears visit the area too and sit in the water waiting to snag the fish in a mid air jump for their dinner. 
A short drive from there is the Sol Duc Hot Springs resort.  There are trails to hike including the Sol Duc Falls trail for a glimpse of more raging waterfalls in the lush forest, and a hot springs to dip into after the hike for some much needed rest and relaxation and even dining. The resort also has a campground.  Please note that the resort is not open all year long, so call ahead to see current operating hours.  
Home base: Sol Duc Hot Springs Resort
Day 6-North Central at Crescent Lake
Next stop on the list is the ever-so clear Crescent Lake. Azure water caused by very little nitrogen makes an excellent centerpiece to the surrounding mountains and a great place to stop and hike, picnic or camp.
Marymere Falls is a popular hike to a 90ft waterfall. There are also places to picnic along the lake with excellent views.
Home base: Port Angeles, Washington
Day 7-North at Hurricane Ridge
After exploring the shore town of Port Angeles, we made our way to the pinnacle of the trip, literally. 
Hurricane Ridge is about a half hour away from Port Angeles and is a stunning drive with a couple of tunnels and impressive mountain vistas.  
At the end of the road, is a visitor's center with restrooms, a gift shop and a snack bar.  The center is a great place to pick up a souvenir and light fare after hiking one of the many trails on Hurricane Ridge, including the popular Hurricane Hill Trail.  
From the visitor's center, there is an excellent view of the highest summit in the Olympic Mountains , Mt. Olympus and one of its 7 glaciers-Blue Glacier (the largest). Mt. Olympus stands tall (7980 ft elevation) so it's easy to see why this is the central feature of Olympic National Park.  It's a great place to see the vistas without even hiking, making it perfect for those with limited mobility or those who lack the time to hike.  
We finished our trip here but continued to explore the areas around the park including the National Forest and the small towns.
Home base: Sequim, Washington
Olympic National Park is a great place to spend a few days, but keep in mind this park doesn't have any roads that cut through it, just a large loop around it that took us about 14 hours to cruise.  That makes for a lot of driving, so be prepared that you may not be able to see everything on your agenda.  Plan ahead and stay in different corners of the park to make your day trips easier.  
Helpful items to pack: Rain ponchos/raincoats, waterproof shoes, digital camera, layers of clothing, small cooler with lunches, snacks and water, flashlights, towels and Covid prevention masks.  
I hope you enjoyed this and you will wish to visit in the future if you haven't already.  And remember to always leave no trace in our beautiful National Parks and forests! 
Here's some links for more information:
Olympic National Park (U.S. National Park Service) (nps.gov)
Recreation.gov – Camping, Cabins, RVs, Permits, Passes & More
About Us – Misty Mountain Soy Candles
All pictures are property of Misty Mountain Soy Candles, LLC
Follow Misty Mountain Soy Candles on Facebook for special announcements, tips and promotional discounts!